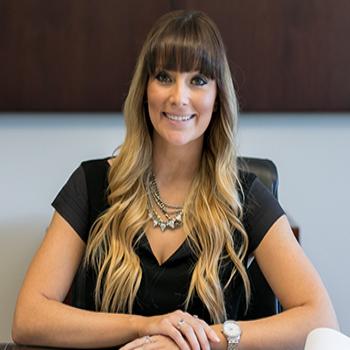 Ashley De Young-Seibert joined the De Young Properties team in 2011, after attending California State University, Fresno, where she earned her degree in Mass Communication and Journalism. Continuing a family tradition of home building, Ashley represents the third generation in the family business and serves as Vice President of Marketing. In this role, Ashley manages De Young Properties' website, digital marketing, special events, social media platforms, interior design and model home merchandising, and all other forms of advertising and public relations. Ashley has specifically led the initiative for De Young Properties to build an interactive social media presence, focusing heavily on engaging video content, with profiles on Facebook, Twitter, YouTube, LinkedIn, Pinterest, Houzz, and Instagram.
Ashley has been a critical factor in the growth and evolution of De Young Properties as not only a leader in quality craftsmanship and innovation but also focusing on the latest design-trends and leading-edge amenities, while never losing sight of the most important aspect of the business – customer service. Building more than 7,000 homes in over 45 years has placed the De Young Properties team at the forefront of its field by exceeding building standards with increased energy efficiency, sustainability, and lower environmental impact.
In 2013, Ashley and the De Young Properties team completed the Central Valley's only known Zero Energy Home, also known in the home building and energy industries as Zero Net Energy, which was designed, and has been verified, to produce as much clean energy as it consumes each year. Since then, De Young Properties has continued its commitment to the environment and building homes with state-of-the-art features that are both beneficial to the homeowners and environmentally-conscious for the long term.
De Young Properties leads the state of California in Zero Energy with the largest single-family community and 100+ Zero Energy homes planned for the city of Clovis. Focused on staying ahead of California's homebuilding regulations, Ashley and De Young Properties openly share best practice successes through each community completion. The most recent demonstration of this commitment includes a SmartHome Experience Center, which is an interactive, educational display of the innovative energy efficiency and home automation technology included in their homes, at their Leonard Welcome Center in East Clovis.
Want to learn more about Ashley and De Young Properties? Check out her episode of The Home Builder Digital Marketing Podcast!
Contact Ashely:
Email - ad@deyoungproperties.com
Back to Speaker List